Mount Macedon Winery
Establishment, lodging and food at 433 Bawden Road, Woodend, VIC 3442, Australia. Here you will find detailed information about Mount Macedon Winery: address, phone, fax, opening hours, customer reviews, photos, directions and more.
Photos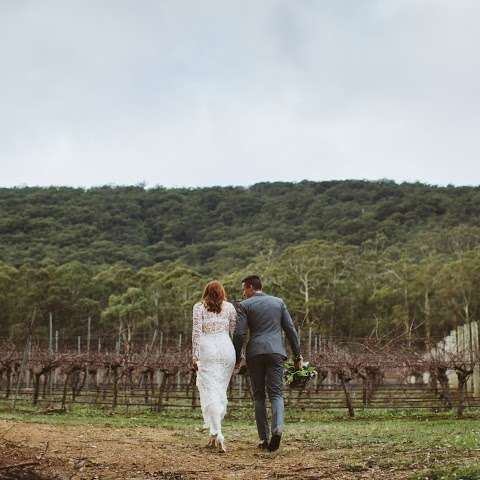 Reviews of Mount Macedon Winery
Lindsay Mann Added January 15, 2023

★ ★ ★ ★ ☆

We had a very pleasant lunch at Mount Macedon Winery restaurant. The staff gave us a warm greeting and service was always prompt, friendly and helpful. The restaurant has a nice view overlooking the grapevines on one side and the the countryside on the other. The menu offered some good choices. We particularly enjoyed the sticky lamb shoulder main course. We tasted a flight of 4 wines that were OK but also ordered a glass of the shiraz which I thought was the best of the wines we tasted.

Lisa Added January 14, 2023

★ ★ ★ ★ ★

What a beautiful rural setting with excellent views. We very really impressed with the gorgeous building that had acoustic work to enable every diner a pleasant experience. The staff were so friendly and recommended other magnificent places to visit whilst in our area. The food and wine was absolutely fantastic and we will be back for sure.

liana c Added December 30, 2022

★ ☆ ☆ ☆ ☆

I was there over the weekend with my family of 17 people. Terrible and rude service. They charged us for extra pizzas that we didn't order. It took over an hour to get our pizzas which were disgusting. They were cooked incorrectly and saturated in unseasoned sauce. Staff were incredibly rude. We understood that they were under the pump but if they knew they were having a big group on a Saturday they should have had more people on instead of just the three of them. We ended paying for the extra pizzas that weren't even ordered and eaten. Too bad the scenery was beautiful, the food and service was appalling. Don't waste your time or petrol.

Pauline Taylor Added December 30, 2022

★ ★ ★ ★ ★

Wonderful views and excellent food! Especially the artichoke and asparagus entree. Several people in our group had special dietary requirements and these were accommodated in a friendly manner including helpful suggestions. We all enjoyed our experience immensely.

Sean Kelly Added December 22, 2022

★ ★ ★ ★ ★

The drive into the property is beautiful and the setting for the restaurant is spacious and captures the surrounding views. Service impeccable, food was delicious and the portions were far larger than you would expect from a winery lunch.

We had our newborn with us and there was plenty of space for the pram. They also gave us a table with a couch space for our newborn to lie down on a blanket.

I would recommend the whole experience.
Questions & Answers
1. What is the phone number for Mount Macedon Winery
The phone number for Mount Macedon Winery is +61 488 999 361.
2. Where is Mount Macedon Winery located?
Mount Macedon Winery is located at 433 Bawden Road Woodend, VIC 3442.
3. Is there a primary contact for Mount Macedon Winery
You can contact Mount Macedon Winery by phone using number +61 488 999 361.
4. What is the web address (URL) for Mount Macedon Winery
The website for Mount Macedon Winery is mountmacedonwinery.com.au.
Share this page
Additional actions
Today's weather in Woodend VIC
13:00
14 ℃ 1018 hPa 82 % 5 m/s 16:00
15 ℃ 1018 hPa 70 % 6 m/s 19:00
11 ℃ 1020 hPa 77 % 6 m/s 22:00
10 ℃ 1021 hPa 89 % 7 m/s
Tomorrow's weather in Woodend VIC
01:00
11 ℃ 1020 hPa 83 % 7 m/s 04:00
10 ℃ 1019 hPa 83 % 7 m/s 07:00
10 ℃ 1020 hPa 78 % 7 m/s 10:00
13 ℃ 1021 hPa 63 % 8 m/s 13:00
16 ℃ 1020 hPa 53 % 6 m/s 16:00
15 ℃ 1018 hPa 56 % 6 m/s 19:00
10 ℃ 1020 hPa 81 % 5 m/s 22:00
9 ℃ 1020 hPa 90 % 5 m/s